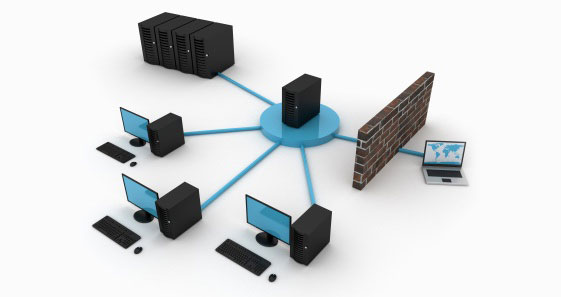 Technology
Security, Data Integrity, Reliability, Availability, Extensibility, Flexibility, Connectivity, Scalability, Sustainability, Compliance, Best Practices, Best of Breed … these are some of the many buzzwords in the technology sector. There are a few other tried and proven terms such as Accuracy, Efficiency, Cost Effectiveness, Productivity and Profit (yours and ours). These are principals by which Alpha Distribution Solutions develops, maintains and operates our technology systems … not in networking circles or marketing convenience, but in practice 24/7. Our entire technology environment – hardware, operating system , data base manager, applications, and global communications network reflect this philosophy and direction. We consider every piece of hardware, system and procedure that we employ to be Best of Breed and Best Practice. And, we've been conducting business in this manner for the past two decades while continually improving our systems and procedures.
Hardware/OS/DataBase
Alpha Distribution Solutions operates and maintains a multi-platform hardware and software environment in order to maximize the efficiencies and economies of all its material and human resources. At the apex of the multi-tiered platform is the centralized corporate computer processor and database. This IBM iSeries operating environment includes operating system and database manager (DB2) that are designed, developed, built, tested, delivered, and supported as one. IBM iSeries runs on the fastest processors in the industry. It offers scalability for small, mid-sized and large enterprises and has enabled our clients and us to support annual 20% plus growth. IBM iSeries has a proven reputation for exceptional business resiliency – 3 year cost of downtime for IBM iSeries averages 80% less than PC servers. ADS operates 24/7 and the downtime is all but non-existent. DB2 for iSeries is a fully compliant SQL database. In fact, DB2 for iSeries was the first database to meet 100% of the core SQL 2008 ANSI standard requirements. The middle levels of the technology platform consists of a series of servers which provide a series of services from processing EDI and AS2 transaction, to driving the PLC (Programmable Logic Controllers) which operate the conveyor systems, to providing shared folders.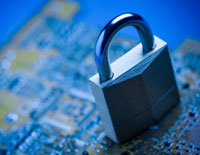 Security and integrity of your data is Job #1 for the Information Technology department at ADS. We follow comprehensive system and data Backup and Disaster Recovery procedures in keeping with industry best practices as modeled upon the IBM Security and Backup & Disaster Recovery manuals. Your data is secure from both man-made dangers as well as natural disasters such as fire, floods, etc. This comprehensive level of backup is employed at all platform levels.
Data Communications Network
The backbone of the Alpha Distribution Solutions data communications network is a series of secured, high speed lines that connect all Company facilities and provide Internet Links to clients, retailers and suppliers Web Sites. The network supports emails, secure access to retailers web sites including supporting downloads/uploads of data as required. Your data and all automated processes occur behind the safety and security of our firewall. The network supports all our client and retail customer EDI and AS/2 communications. Our network is managed 24/7 for security monitoring, Web Site support and outages. Secure VPN connections are provided for those clients that request this direct, hot line to their data and want to directly participate in the distribution process.
All Alpha distribution centers have secured wireless communications behind the firewall. This provides us with seamless integration among all levels of the hardware platform and supports the use of RF scan devices throughout our facilities. This is what enables us to let you know precisely where your product is and what the status of your orders are real time. The network is also tied into many of our shippers. For example, WMS supports automated shipping interface with USPS, FEDEX and UPS.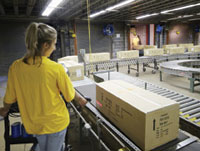 Applications
ADS employs a wide array of application functionality to support your business. We have theapplications to support you whether you are simply looking for us to ship your product using a paperpick ticket, or whether you are looking for a full managed service including EDI with your retailer and ERP back offices support, or anything in between, ADS IT can do it. In fact, we have done it for clients for many years. Some examples of the applications we provide include Warehouse Management System (WMS), ERP: Order Processing, Accounts Payable, Accounts Receivable, etc., and Import Tracking.
EDI Technology (Electronic Data Interchange) enables Alpha Distribution Solutions to electronically exchange business data with your customers, suppliers and your company's ERP for all aspects of your business. ADS employs both AS/2 and "EDI over the internet" protocols using the globally acclaimed EXTOL software. EDI services also facilitate the information flow, reduce business transaction costs, speed response time, and offer enhanced data security. Some examples of how ADS interfaces with the retailer using EDI: customer purchase order processing (850), routing request and routing from customer (753, 754); ASN (856, 824): Advance shipment notice at shipment, pallet, carton and piece level. Our ASN has multiple PO @ carton capability; Invoicing (810); Product Catalog (832); Organization locations and addresses (816); and, POS (Point of Sale – 852).
Alpha Distribution Solutions interface of its WMS system with your ERP system to provide optimum visibility and control of inventory, order processing and distribution. This can be accomplished via EDI or AS/2 secured interface files. ADS can use EDI to interface with your ERP order processing functions by: processing the Pick Ticket (940), picking, packing and shipping the goods, and return the Shipment Notification (945) for generation of the ASN & Invoice within the customer ERP system. The interfaces also address receiving and inventory management & control with the following documents: receive the ship- ment notification from Factory or Warehouse via the EDI 856 or 943 documents; auto- receive against the container shipment; and, return inventory receipts to the customer via the 944 warehouse receiving document; process all inventory adjustments posted to the customer perpetual inventory via the 947 document; physical inventory synchro- nization maintained between the WMS and customer perpetual inventory via 846 Inventory document.
Compliance. Alpha IT is fully compliant with all retailer, VICS and ANSI standards in EDI and associated shipping documents and labels. These include: UCC-128 shipping label, VICS Standard BOL (Bill of Lading), GS1 for global data synchronization (GDSN), and EPCglobal for RFID support. ADS is a member of 1SYNC … 'the leading implementer of supply chain data synchronization.' GDSN is key to the strategic direction of Wal-Mart who has asked all its suppliers to become fully compliant. ADS has shipped cartons in compliance with RFID standards of EPCglobal for the past several years.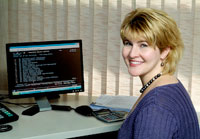 Client Interface
The Alpha Distribution Solutions information technology architecture has been designed and implemented to provide total flexibility and extensibility in its interfaces with its clients and their customers. The primary integration points are: Product Inventory management, Inventory Receiving and Adjustments, Order/Pick Ticket Processing, Shipping, and Order Status Reporting. The WMS interface files can be fed by EDI documents, or AS/2 secured FTP files, or basic flat files, or spreadsheets. In all options, data security and integrity are of paramount importance. To this end, the interfaces employ numerous data audit and control processes.
Alpha Distribution Solutions provides its clients with direct access to their inventory and order processing data via a subsystem called IPOST (Interactive Purchase Order Status Tracking). IPOST provides interactive access to the status of your customer Purchase Orders as they flow through our order processing and shipping cycle. Visibility is also provided to your item master and the inventory at the SKU level.