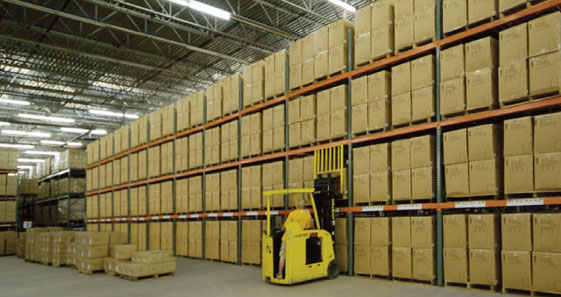 Distribution Services
Receiving
Did you know that inbound cartons rarely touch the floor at Alpha Distribution Solutions? That's right! Our receiving system moves cartons directly from shipping containers to a remote palletizing station. The entire receiving process is completed over an automated conveyor system! Each carton or pallet is license-plated and entered into inventory immediately upon unloading for tracking throughout the warehouse. From our palletizing station, pallets are then moved directly into a picking area or into a storage location. Throughout the entire process, constant inventory visibility is maintained for our clients. This is accomplished by our WMS system which can read UPC codes and post an inventory record almost immediately upon receipt. This provides visibility of the inventory for Alpha Distribution Solutions as well as our customers through WMS web-enabled functionality. You'll find our sophisticated automation systems provides accurate and timely receipts, plus the entire receiving process also minimizes overall warehouse touches.
Accurate, fast receiving begins long before the container arrives at the docks at our DC's. Advance shipment notification specifying the shipment container and its contents coming from your factory or warehouse are loaded into WMS to provide our staff withall pertinent information required to receive and put away your goods. Because we know the container and its contents before it arrives at our docks, we can accommodate secure, timely, problem free receipt of your goods. This advance shipment notice can be provided via advanced technology such as the EDI 856 or 943 documents or via the simple faxing of the bill of lading and shipping manifest. You send the shipment notification to Alpha Distribution Solutins, we'll take care of the rest.
Inventory Management & Control
Inventory integrity requires rigorous, comprehensive inventory management and control systems and procedures. These procedures begin with receiving the inventory. This is the purpose for identifying your product by the license plate at either the carton or pallet level. The license plate contains information about the SKU itself as well as the date and time the product was received into inventory. All physical picking, storage and staging areas in the DC's are uniquely identified and qualified as a barcode location. Each and every physical movement of a license plate is recorded and maintained in the system. In this manner, we can not only tell you the quantity of your inventory but where it is, was and will be. WMS synchronizes both a perpetual and location inventory. The license plate with its receiving date and time also enables us to support FIFO in our Pick & Pack operations when required.
Alpha Distribution Solutions will provide physical inventory upon request. The physical inventory utilizes RF scanning guns and a automated physical inventory system to minimize labor and maximize the accuracy of the count. This all helps to keep your cost of doing a physical inventory low. We also provide a cycle count system and procedure which is offered on an ongoing basis for the cycle you define…weekly, monthly, quarterly, etc. The cycle count module provides complete audit trail and record. This system has been accepted by auditors of some of our clients to forgo physical inventory resulting in significant cost savings. So, not only does cycle counting keep your inventory more accurate on a daily basis, it can save you money as well.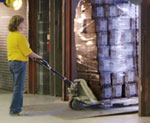 Shipping
We understand the importance of being accountable for being on time and accurate with everything we ship. Our philosophy of treating your product and customers as our own has been built into our WMS system and processes. Nowhere is this more evident than in our shipping where we have developed a management and control system called Dock Confirmation. Simply stated, Dock Confirmation ensures that everything that should have shipped actually did ship, and that it shipped in the proper quantity. You can rest assured in knowing that every piece picked, every case packed, every pallet filled, every carton or package shipped, and every shipment leaving the dock is monitored, checked for completion and recorded within our WMS. Moreover, this comprehensive trail of data is available to you. When you ship with us you will know that your product shipped as you wanted it to ship without exception!
The process of Dock Confirmation begins when the pick ticket is generated. Each piece or assortment picked as well as each item back ordered or cancelled is scanned into the carton. When all items for the carton have been picked, the system confirms the carton has been filled. Any missed pick(s) is identified and must be resolved before the carton can progress through closing and on to the shipping area. The order is confirmed only after any and all cartons belonging to the order are confirmed. At this point, the filled, closed cartons are scanned onto license plated pallets which are used to track position and movement through the remainder of the shipping process. At the point when routing has been attained and the shipment has been defined in terms of the customer purchase orders, the system will confirm the shipment by ensuring that all cartons for all customer purchase orders have been completely picked, packed into cartons and placed onto pallets. The final step is triggered by the arrival of the trailer at the DC dock. The system can now automatically generate the bill of lading and shipping manifest. The loading of the trailer is the final act. But not before each pallet (or carton on floor load) is scanned onto the trailer. This final step closes the loop and assures that every carton on the shipment, in fact, ships.